Welcome to K BAR C Farm Toggenburgs! Home of 3 beautiful and highly accomplished does. KBARC CAVALIER'S YESTERDAY-- 2011 NATIONAL GRAND CHAMPION TOGGENBURG, CH KBARC RR KARMEN'S WEARNPEARLS --2011 RESERVE NATIONAL CHAMPION , 2011 NATIONAL CHAMPION UDDER, 2010 RESERVE NATIONAL CHAMPION UDDER, and CH KBARC RR TRISTEN-- 2011 NATIONAL GRAND CHAMPION RECORDED GRADE, 2014 RESERVE NATIONAL CHAMPION AND NATIONAL CHAMPION UDDER--RECORDED GRADE. Our mission is to produce Toggenburg Dairy Goats where quality and values are of the utmost importance, and where the balance of all the desirable traits of the Toggenburg breed are replicated with honesty and integrity. Feel free to contact us at rcyounger@aol.com, or the numbers above!


KBARC CAVALIER'S YESTERDAY T1443837 ---2011 NATIONAL GRAND CHAMPION TOGGENBURG.(DECEASED)


CH KBARC RR KARMEN'S WEARNPEARLS T1379019--2011 RESERVE NATIONAL GRAND CHAMPION TOGGENBURG, 2011 NATIONAL CHAMPION UDDER AND 2010 RESERVE NATIONAL CHAMPION UDDER. (DECEASED)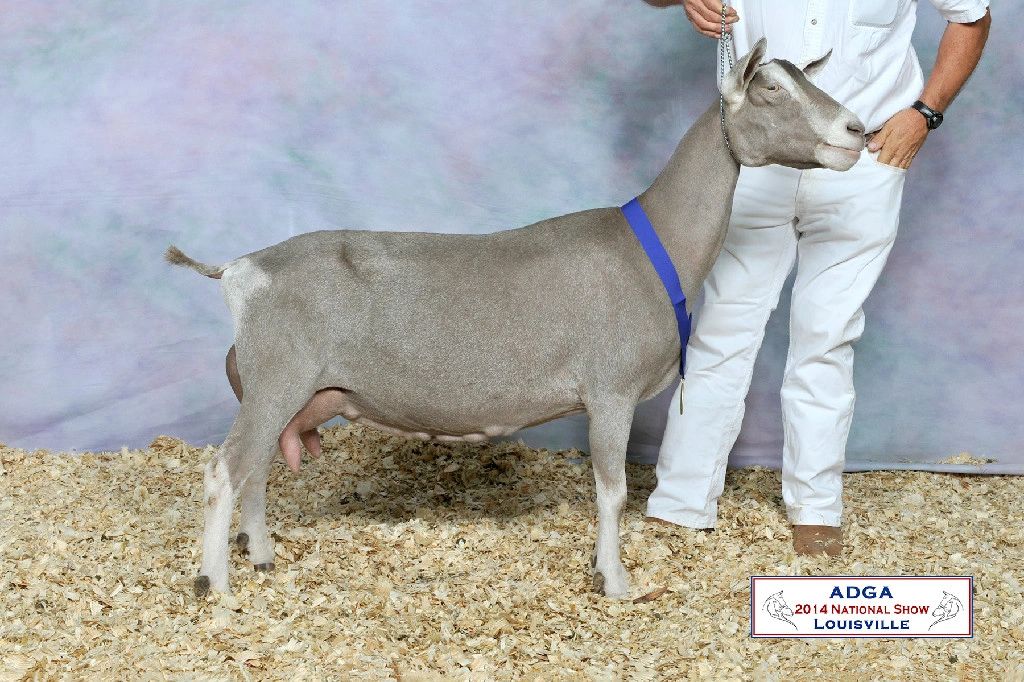 CH KBARC RR TRISTEN E1311904 -- 2011 NATIONAL GRAND CHAMPION RECORDED GRADE. 2014 RESERVE NATIONAL CHAMPION AND NATIONAL CHAMPION UDDER RECORDED GRADE
K Bar C Farm was established originally in 1987 on a small farm in Bailey, NC. The original plan was to have a Thorough-bred horse breeding farm. At that time, neither Kim nor I had any knowledge of dairy goats. Our knowledge was limited to a phrase we both learned in veterinary school, "A sick goat was a dead goat!" Fortunately, our general knowledge of goats has greatly increased, not to mention that our caprine medical knowledge (through trial and error) has vastly improved.

Our first step in the Toggenburg arena came in the summer of 1990, when we agreed to take seven dry does belonging to Springbriar Farm and raise their offspring on halves. After two years and mostly buck kids we decided to move a little faster since we were going at a turtle's pace.

After consulting with Wythe Quarles of Springbriar, we took our second step. We decided that we needed to purchase two does. Kim visited Dairy Delight Toggenburgs and brought home two yearling milkers, Dairy Delight DDKC Crescendo and Dairy Delight Joker Wrapsody. Little did we know that the 1992 buck offspring of Crescendo was sold to Little Creek Farm. That buck was CH*B Dairy Delight Chaos Crescent.

The following year (1993) would be forever known as the first wave. That year two does were born to Wrapsody, GCH KBARC DDCP Encore and KBARC DDCP Ellusion. Out of the K BAR C Springbriar partnership, GCH Springbriar DDPW Erin was born. Also, that year we purchase a doe from Springbriar that would grow up to be GCH DDC Ensue. The current herd in it entirety goes back to these six foundation does.
The year 1994 marked the start of the K Bar C Farm Show adventure and a family move to our current location near Nashville, NC. Since that start we have shown in more than 100 shows, produced 3 Permanent Champion Bucks, 5 Permanent Champion Recorded Grades (Experimental), and 17 either Permanent GCH or CH Toggenburg does. WE have participated in, since 1997, 9 National Shows and visited 3 other National Shows. At the 2001 ADGA National Show KBARC FP Northern Star was Reserve Junior Champion Toggenburg. At the 2004 ADGA National Show KBARC WPF Saratoga was Junior National Champion. In 2006 we had our first National Show senior doe class winner. GCH KBARC Encore's Mandolin was 1st place Aged doe. In 2007, at the National Show in Gillette Wyoming, we had 2nd Place Dairy Herd and 2nd Place Best 3 Senior Does. Northern Star and Karmen were 3rd and 7th in the Aged Doe Class.

The fall of 2007 and winter of 2008 marked a major set back for K Bar C. That year we lost from various ailments, Northern Star, Mandolin, and Karmen. We did continue on and showed at the 2008 ADGA National Show, and the young girls did respectable. "Pearl" place 4th in the 2 Year Old Class and as group classes the senior does were 4th Place Herd and 4th Place Best 3 Senior Does.

Unfortunately, we did not show at the 2009 ADGA National Show, but we did make it to the 2010 Nationals in Louisville, KY. The 2010 Nationals proved to be one of our best national appearances. Our doe Pearl was selected as the 2010 ADGA National Reserve Champion Udder Our herd was also 2nd place dairy herd and 2nd place Best Three Senior Does.
2011 marked our best showing at a National show. Along with the accomplishments of Yesterday, Pearl and Tristen. We had 1st Place Toggenburg Dairy Herd and 1st Place Best 3 Senior Does. Amethyst was 2nd Place Yearling Milker, Xclamation was 3rd Place 4 Year Old Milker, Serpentis was 4th Place 4 Year Old Milker.

2012 was an eventful yet, somewhat depressing year. We lost "Pearl" in September, but , we were blessed to have her for 5 show seasons and her accomplishments speak volumns of her importance to K BAR C . We did get "Campeon" and "Cultured Pearl" from Pearl in the spring. These two, along with Amethyst and Bracelet, will keep her genetics going. We did finish 3 does this year, Yesterday,Zympona, and A-1. Tristen was Best Doe in Show 4 times and Best Udder in Show at the NC State Fair.

2013 we did very little showing. Tristen did go best doe in show at the NCDGBA Memorial Day show. Bracelet got a milking leg. Two "ZERO BAR" daughters had great years. KBARC ZB Clarinet, owner by the Bottoms of western NC, was 2 times Best Jr. Doe in Show. KBARC Yesterday's Drizzle ( see below) was our Spotlight Sale consignment who sold to Bob Dunlap for $4350.00

2014 was a year of up and down emotions and limited success in the show ring. Exciting and most important news Codie got married and transferred to the naval Base in San Deigo and Casey finished his tour in the Army. Thank you both for your service to our country. On the down side we lost "Yesterday" to cancer and lost "Zympona" shortly after kidding. Goat showing was met with some successes Tristen was the 2014 Reserve National Champion Recorded Grade and National Champion Udder along with at a earlier show being for the 11th time Best doe in Show. A-1 was Best Doe in Show at the 2014 NC State Fair. She also was the 10th placed 4 year old at the 2014 ADGA National Show. Miss Modern Design was Best Jr. Doe in Show at the 2014 NC State Fair. Dominant Chord was 7th placed Yearling milker at the 2014 National Show. Chord also earned a milking leg. Bracelet and Belinda appraised EEEE91. So truly not to bad for an off year.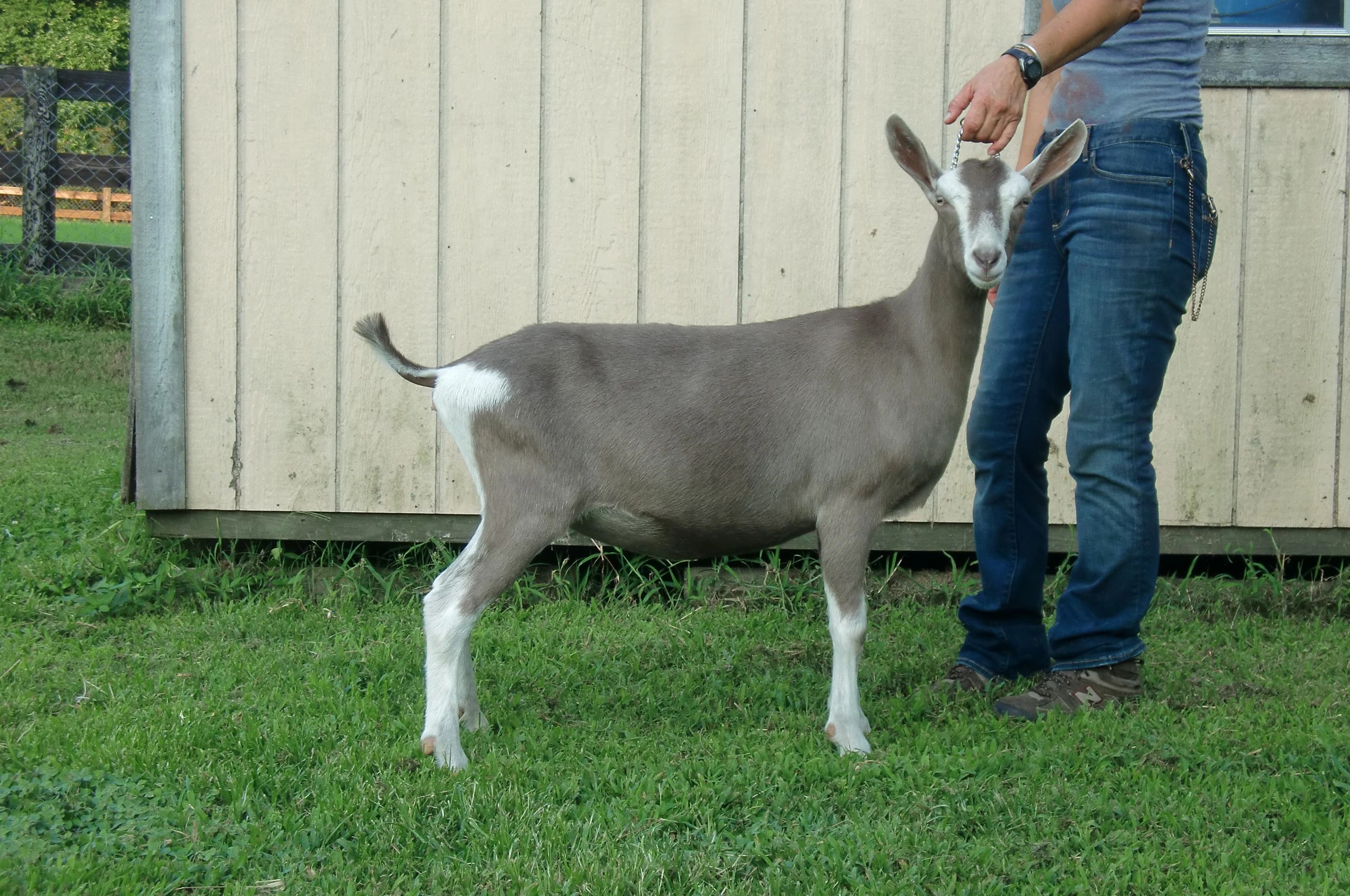 1ST PLACE DAIRY HERD 2011 ADGA NATIONAL SHOW. FROM LEFT TO RIGHT...SERPENTIS---XCLAMATION---PEARL----YESTERDAY
THE FAMILY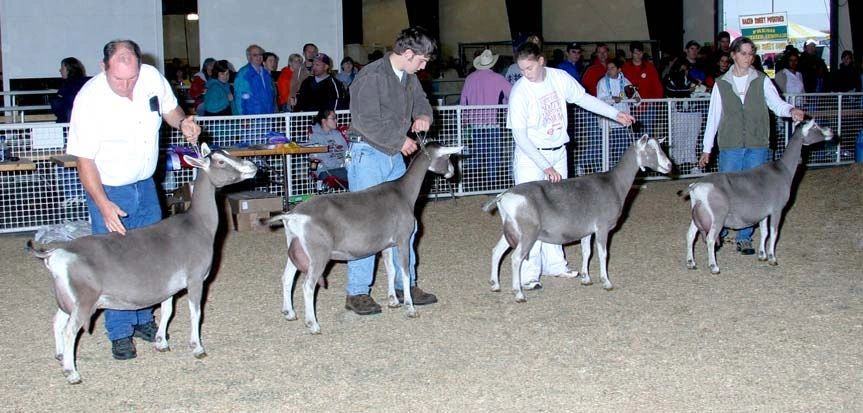 Cole Casey Codie Kim
"Northern Star" "Tymphany" "Sachet" "Mandolin"


Our goal is to offer you young stock and in some instances young milkers, of good type with the potential of having a good mammary system that milks well and hopefully will do well in the show ring. The herd is Tuberculosis accredited and brucellosis certified. The herd is appraised yearly or every other year. The herd does not have CL. Our herd is tested twice a year for CAE using the Elisa testing. The herd has been negative for CAE now for 9 years. With the schedules that we have, we do dam raise some kids. Those kids that are not dam raised are given clostrum that has been frozen from does that have had at least 2 negative CAE Elisa test, and are maintained on pasteurized milk until they are weaned.